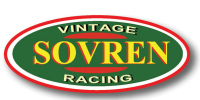 Location
Portland International Raceway, Portland, OR, USA
Date
September 08, 2018
In celebration of the Sprite's 60th birthday, in conjunction with the Sovren Columbia River Classic Vintage Car Races and the ABFM, we will be holding a Challenge Race for Sprites and Midgets only. Event will take place on Saturday, Sept. 8th as the last race of the day. Event is presented by Newby Racing and sponsored by Victory Lane Magazine and MOSS Motors. Trophies and prizes will be awarded.
0 Members Attending this event ↵
No members have indicated they are attending yet...
Want to add yourself to the list of attendees?
Please Sign In — or Register a new account (it's free!)
event/1968