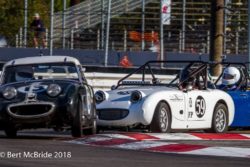 Location
Portland International Raceway, Portland, OR, USA
Date
September 07, 2019
Second Annual Sprite/Midget Challenge Race at Portland Intl Raceway. Run in conjunction with SOVREN Columbia River Classic Races and the Portland ABFM. Cars must be prepared to any Vintage Race organization rules and regulations. Must be entered as part of the SOVREN event though. More info at website or contact email above.
0 Members Attending this event ↵
No members have indicated they are attending yet...
Want to add yourself to the list of attendees?
Please Sign In — or Register a new account (it's free!)
event/2098